As most residents will know, there are two plaques in All Saints Church recording the names of the men who died in the World Wars, but the Village Hall was designated as Drinkstone's official War Memorial in the 1920's. In view of this, there has been discussion by members of the Village Hall committee about how the centenary of the First World War might be marked in Drinkstone.
For a number of years on Remembrance Sunday, the names of the 15 Drinkstone men who are listed on the First World War memorial plaque in the parish church were read out, including the three on the Second World War memorial – but nobody attending the service knew anything about the lives of the men themselves. Robin Sharp is researching the background of each of these men and it was agreed that to tell their stories, during the week marking the centenary of each individual's death, would be a fitting way to honour their lives and keep the solemn pledge: 'We will remember them'."
George Rose 13th January 1883 – 12th October 1917
Leonard George Rose was born in Drinkstone, Suffolk on 13th January 1883, and (according to the 1911 census) was one of 14 children born to agricultural labourer William Rose and his wife Kezia(h) (nee Butcher, previously Last, born in Sicklesmere). Presumably he was a sickly infant, as he was baptised "privately' (which usually meant at home, possibly because there was a fear that the child might not survive) on Saturday 24th March 1883. Happily, little Leonard (or George as he was known) did survive and he was formally received into All Saints Church, Drinkstone by the Rector Frederick Horne, on Sunday 27th May 1883. Drinkstone National School records reveal that George Rose was enrolled as a pupil at some time between 1885 and 1893, probably in 1887.
The Bury Free Press on November 17th 1917, reported that all four Rose brothers joined up together in Bury St. Edmunds "After finishing their harvest, they joined up in the 8th Battalion, Suffolk Regiment in September 1914″. Read more here.
Footnote to George Rose's story: David Rose, grandson of George Rose, was visiting his sister Judith in Ipswich in May 2017. They knew that their grandfather had lived in Woolpit so they made a decision to go to Woolpit Church to see his name on the War Memorial. Whilst there, they were told that the War Memorial was by the Institute and were asked if they would be visiting Drinkstone Church as well. "Why?", asked David. He was very surprised to be told George's name was on the Drinkstone Memorial too. They did not know George had been born in Drinkstone. They arrived in Drinkstone just after the service had finished and were astonished to find the boards about their great Uncle Cecil on display. They made an appointment to return on the anniversary of George's death – and here they are, right to left, David, his sister, Judith and wife Stella, in front of the board honouring their grandfather.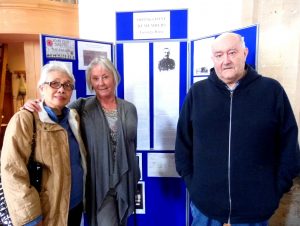 Bertie Phillips 18th May 1888 – 27th September 1917
2nd/5th Battalion Leicestershire Regiment, Army Numbers 5910; 242205. Bertie Phillips was born in Drinkstone, Suffolk on 18th May 1888, the youngest surviving son of 5 children of Edward Phillips (from Great Barton) and his wife Anna (nee Barrell, born in Drinkstone). The newly-married couple probably moved to a house on Drinkstone Green in 1881 and were still in the same area by the time of the 1911 census. Bertie's father was described in the 1881 census as a photographer, in 1891 he was listed as a farmer and in the 1901 and 1911 censuses as a waiter (domestic/casual). His mother was listed in all censuses and in Kelly's Directory as late as 1933 as a dressmaker.
He moved to London, married there and signed up for the Leicestershire Regiment in Batterea in May 1916. Read more here.
Alfred Harvey 14th April 1892 – 14th August 1917
6th Battalion, Alexandra (Princess of Wales's Own) Yorkshire Regiment, Army Number 25299) Alfred Jonathan Harvey was born in Drinkstone, Suffolk on 14th April 1892, the third of 4 children of Alfred Harvey, a horseman at Green Farm, Drinkstone and his wife Sarah (nee Bullen, born in Denton, Norfolk). It is known he went to school and worked in Drinkstone, but eventually moved to Yorkshire where he enlisted with the Yorkshires when he was 20. Read more here.
Cecil Rose 16th February 1885 – 7th May 1917
(8th Battalion Suffolk Regiment, Army Number 14006)
Cecil Robert Rose was born in Drinkstone, Suffolk on 16th February 1885, and (according to the 1911 census) was one of 14 children born to agricultural labourer William Rose and his wife Kezia(h) (née Butcher, previously Last, born in Sicklesmere). He was baptised at All Saints Church in Drinkstone by the Rector, Frederick Horne, on 12th April 1885. He was brother to Sydney Rose, also killed in action. Read more here.
Sydney Rose 1887 – 29th October 1916
Sidney Arthur Rose was born in Drinkstone, Suffolk in the first half of 1887, the youngest son of 14 children born to agricultural labourer William Rose and his wife Kezia(h) (née Butcher, previously living in Sicklesmere). He was baptised at All Saints Church in Drinkstone by the Rector, Frederick Horne, on 5th June, 1887.
Previously working a a farm labourer, he enlisted with this three older brothers after the Harvest in 1914. Following heavy shelling of the trenches in the Battle of the Somme on 29th October 1915, Sydney Rose was killed 'doing his duty' by trying to dig out comrades already wounded by the shells. Read more here.
 These next two men both lost their lives in the Batle of the Somme, within two weeks of each other.
John Whiting 1895 – 7th August 1916
Born in Hessett in 1895, the family probably moved to Drinkstone in 1905. His occupation is given as Under gardener in the census of 1911. He enlisted at the start of the war, going on active duty in 1915. He was wounded in July 1916 at Delville Wood. His wounds were considered serious enough for him to be moved by hospital train back to the coast, but fit enough to be evacuated back to England and the Fulham Military Hospital in London.  Despite being given the best medical care available, John Whiting finally succumbed to his wounds and died on 7th August 1916 aged 21. Of the fifteen men named on the Drinkstone First World War memorial, Whiting was the only one to die 'back home'. Read more here
Walter Ernest Halls 28th December 1892 – 28th July 1916
Walter Ernest Halls was born in Drinkstone on 28th December 1892, probably in Rattlesden Road, the second of 10 children.  He was enrolled in Drinkstone National School on 9th Sept 1897 aged four and left on 5th December 1907 at 14, having reached school-leaving age. He joined the family grocery business in Rattlesden Road, The Green. He was still working as grocery assistant when he enlisted as a volunteer in the 12th Battalion of the Suffolk Regiment at Bury St Edmunds in November 1915.
Less than two months since he landed in France, he was badly wounded, and died from his wounds on 28th July 1916 aged 23. Read the full story here…
Thomas Barker 1983 – 4th July, 1916
Thomas Barker's service records have not survived, but from calculations based on other records relating to his Army Number, it would appear that he enlisted as a volunteer in the 7th Battalion of the Suffolk Regiment in Bury St Edmunds, aged 32, in mid-December 1915. Training in Britain would have followed, until Private Barker was posted to France at some time in the spring/early summer 1916.
One of the casualties (in the Battle of the Somme) was evidently Private Thomas Barker, badly wounded. Despite being given the best medical care available, Thomas Barker died from his wounds on 4th July aged 33, fewer than two months since he had first landed in France. Read the full report…
Albert Smith 17th December, 1896 – 4th March, 1916
1st Battalion, West Yorkshire (Prince of Wales's Own) Regiment
The fourth man to be commemorated in this way will be Private Albert Smith. He was serving with the 1st Battalion, West Yorkshire (Prince of Wales's Own) Regiment near Ypres in Belgium, when he was killed by a German shell on 4th March 1916 aged 19. He is buried in the Potijze Burial Ground Cemetery in Belgium. Read more…
James Gill 1895 – 6th October 1915
1st Battalion Suffolk Regiment
Army number 8716
Corporal James Gill, aged 19, was serving with the 1st Battalion Suffolk Regiment when he was wounded attacking German trenches during the Battle of Loos in northern France. He was evacuated to a hospital in St Omer, but died from his wounds on 6th October 1915. He is buried in the Commonwealth War Graves Longuenesse (St. Omer) Souvenir Cemetery. Read more
Harry Seeley 1876 – 16th June 1915
2nd Battalion Suffolk Regiment
Army Number 6620
Private Harry Seeley was killed in action on 16th June 1915. His body was not recovered and he has no known grave, but his name is inscribed on the Memorial of the Missing at the Menin Gate in Ypres. Read more
James Cornish 1891 – March 1915
Sergeant James Cornish, aged 24, was serving with the 2nd Battalion Leicestershire Regiment when he was killed in action, between 10th and 13th March 1915, while attacking the German held village of Neuve Chapelle. His body was not recovered and he has no known grave. Read more…